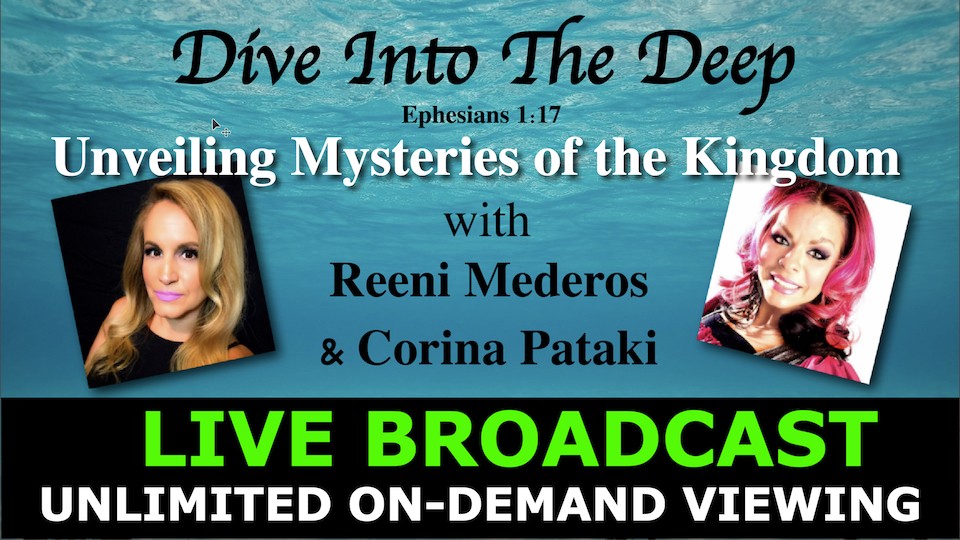 DIVE INTO THE DEEP CONFERENCE LIVE BROADCAST RECORDINGS - From March 2-3, 2018
Over 12 Hours of Video Footage
Two powerful days with two powerful women of God, Reeni Mederos of Warriors International, Inc. and Corina Pataki of Kingdom Reflections, who are teaming up to escort you into many mysteries of the Kingdom of God that not only Jesus walked in but also many others in the Bible who dared to dive deep into the hidden truths of the unseen. It is a lifestyle to enter into and to engage on a daily basis. Reeni and Corina will share their own personal encounters and discoveries from the heart of God on many hidden truths that God wants His people to walk in their daily lives.
Be activated and practice going to heavenly places in worship as Reeni will lead you straight into the throne room of God and heavenly encounters that are life changing. Both of these women are intense prayer warriors and are passionate about raising up mature sons of the kingdom to maturity that you are fully equipped to fulfill your destiny. Dive into two days of eight power-packed sessions. Get ready to feast on the richness of God's word with new fire and power! Intimate spontaneous worship with Reeni Mederos and the band. Get ready to soar as the mysteries of God will be unveiled with each progressive session.
UNLIMITED ACCESS: Unlimited On-Demand Viewing of over 12 hours of video footage as long as the event is offered online.
PLEASE NOTE: In the event of internet interruptions during the live broadcast because of technology limitations at the venue, the on-demand recordings will be uploaded and posted the day after the conference ends.
Here are some of the class perks you're getting...
Watch Anytime On-Demand at your leisure.

Over 12 Hours of Video Content

FREE Online Spiritual Gifts Test
Unlimited On-Demand Access to this video as long as this class is available online.
Refund Policy: No refunds once you have logged into your course.
Registration Problems: Should you have any difficulties with your registration process, try using an alternate email address for your registration.
For further assistance, please email us at [email protected] or call or text (404) 220-7771.