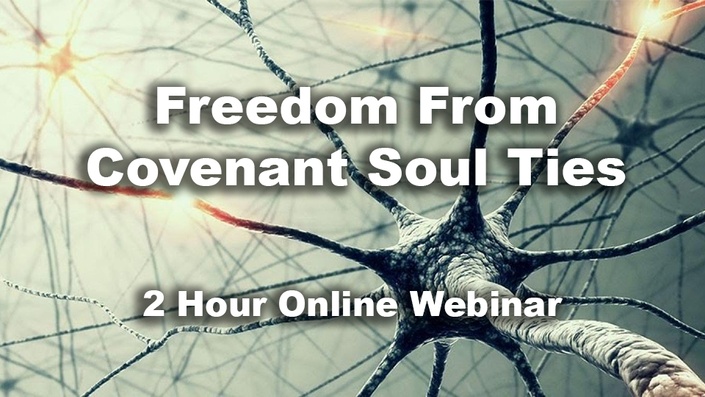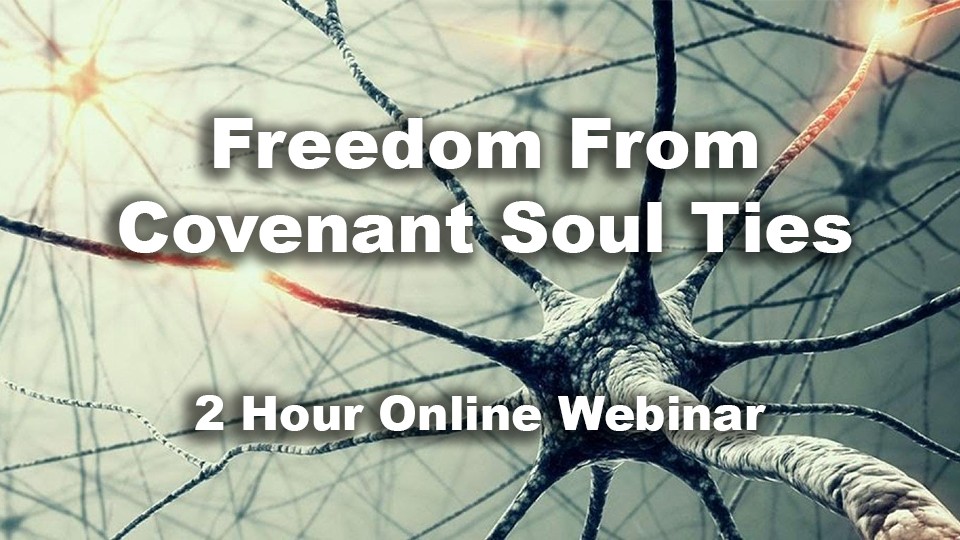 Freedom From Covenant Soul Ties
2 Hour ON-DEMAND Webinar
with Reeni Mederos
What is a covenant soul tie? First, let's define what a covenant is. Simply put, a covenant is an agreement, a legal agreement in the spirit. It is like a contract. We can have a good covenant with God and we can have an unhealthy covenant with the devil or a person. Throughout our lifetimes, we have made good and bad covenants, agreements or spiritual contracts with one side or the other. A good covenant will bring peace and blessings. An unhealthy one will bring bondage, lack of peace and even death to your destiny. When defining what a soul tie, we need to understand there are good soul-ties and there are unhealthy soul ties that form from from covenants and agreements. A soul tie doesn't form unless there is some kind of agreement whether knowingly or unknowingly. But if a covenant or agreement has been made, the fruit of that spiritual contract will form soul ties to that contract and you will be bound to it until it is not just broken, but overtaken and cleansed at the DNA level (joint and marrow) by taking on the DNA of the body and blood of Jesus.
A good soul tie forms from a godly covenant in marriage between and man and a woman. Also, when we have an intimate relationship with Christ as Savior, we can have a healthy spiritual bond with the Lord that causes good spiritual growth and releases peace and life to our entire being. An unhealthy soul-tie can form in many ways from other sources. It can form from having sex outside of marriage, an unhealthy business partnership, a friendship that manifests manipulation, a mother or father that is too possessive over their children, molestation, abuse, the occult, etc. Different types of relationships that may have started off good, can also end up developing into an unhealthy and manipulative soul tie because one of the parties either crossed boundaries in the relationship or dishonored their initial agreement.
In this ON-DEMAND webinar, something the Lord wanted me to teach on was not only giving you keys to Freedom from Unhealthy Covenant Soul Ties, but to also help you to overcome these life draining covenants by Unveiling the Mystery of Oneness with Christ. God has given me specific revelation concerning our oneness with Him that will help you to depart and divorce from unhealthy covenants with a specific activation we will do in class, but also reveal how we are to become one with the Lord in such a way that unhealthy soul ties will be a thing of the past if you know what to look for and how to free yourself from them should they ever arise again.
In the area of having sex outside of marriage, a couple enters a tri-dimensional experience with their body, soul and spirit. A relationship that is like a friendship can engage you in a bi-dimensional experience with the soul and the spirit but it can also hold your physical being hostage to the dictates of that relationship and not allow you to walk out the fulness of your destiny because your spirit being is still held in bondage to that unhealthy soul tie. When there is a sexual soul tie that is formed in a relationship outside of marriage, there are neuro-chemical changes that occur in the brain because the DNA of both parties are intertwining and become one. You may have received deliverance in the past from these soul ties and if you are still experiencing recurring thoughts, dreams or feelings for a past relationship, there may still be a DNA intertwining that needs to be broken, released and overtaken by the power of the blood of Jesus.
In our new relationship with Christ, He paid for our complete freedom not just for the salvation of our soul but also for the redemption of our bodies, our DNA, our chemical make up, our spirit being and just for our entire existence. In this class, I will give you biblical examples of good and bad soul ties, help you understand what to look for, what you have engaged in in the past, specific prayers, decrees and activations to set you free of those unhealthy covenants and to establish healthy and good ones with God and also with friends, family members, spouses, children and business partnerships. The eyes of your heart will be enlightened through exposure of the enemy and also implementing the truth of God's word in these areas.
I am very excited to offer this class because I know that you will see soul ties in a completely different way than has been taught before as God brings you greater understanding into these mysteries that have been reserved by God for us to know and have a thorough understand of. You will be informed, equipped and empowered for your own life but also for the lives of others who are struggling with unhealthy soul-ties and covenants in their own lives. This webinar class will impact your life as well as your family and sphere of influence. Freedom will be released on so many levels and that is what God wants.
I look forward to having you in the class!
Course Instructor: Reeni Mederos - Founder of Spirit Academy
Optional: Be prepared to take communion together as a class to honor the Lord Jesus Christ with the first fruits of our time and have your communion elements ready such as a piece of cracker and water or juice.

Here are some of the class perks you're getting...
Watch Anytime On-Demand at your leisure.
Comment with other students
FREE Online Spiritual Gifts Test
FREE Downloadable Communion Prayer Model
Unlimited On-Demand Access to this video as long as this class is available online.
Refund Policy: No refunds once you have logged into your course.
Registration Problems: Should you have any difficulties with your registration process, try using an alternate email address for your registration.
For further assistance, please email us at [email protected] or call or text (404) 220-7771.
Your Instructor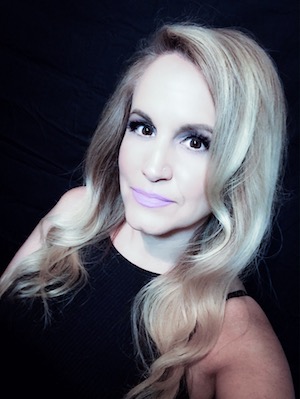 Reeni Mederos is the founder of Mystérion Expressions, Mystérion Academy and Mystērion.TV and is a revelatory motivational speaker, author of "The Weapon of Peace," and pioneering seer and a fiery prophetic psalmist who releases the fire of Seraphim with a passionate love for Christ in her spontaneous worship over cities, regions and nations, piercing individual lives with her contagious passion for Christ and adventuring the realms of the Kingdom following hard after God. Reeni has been activating the Body of Christ into God's supernatural realms for over 25 years with her online schools, live broadcasts and webinars, and on-location activation encounters, helping others to discover and fulfill their God-given destiny scrolls.
With a down to earth prophetic mentoring style that is easily received, Reeni's ability as a prophetic seer brings restoration to a persons God given identity from God and their original blueprint design from heaven. Hope is restored that brings healing to the heart, drawing out the gifts and callings within a person, and raises confidence levels as she administers pinpointed activation strategy with divine wisdom . As Reeni draws out the inner potential of a person's calling and hidden inner treasures with keen prophetic insight into the heart and anointed instruction, many discover the reality of their God-given blueprint, identity and destiny on accelerated levels in a very short period of time that results in a life that is transformed and equipped to do mighty exploits in God as matured sons and daughters of God.
Courses Included with Purchase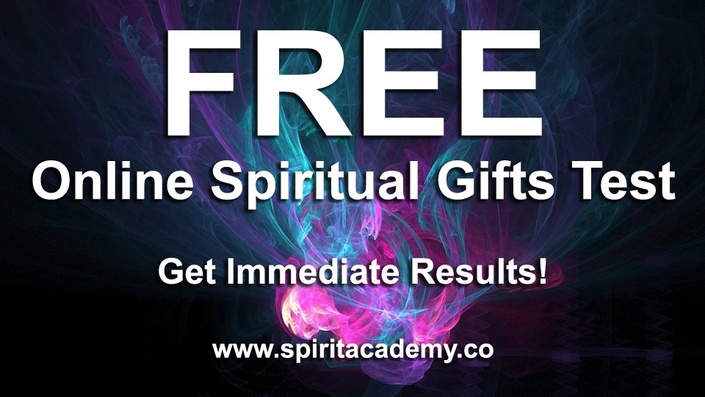 FREE Online Spiritual Gifts Test
Get Immediate Printable Results!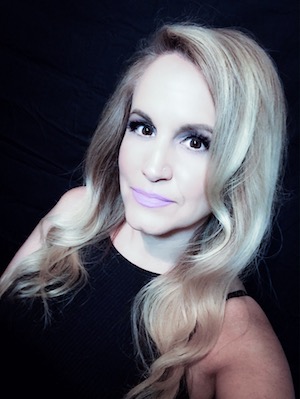 FREE
Original Price: $0