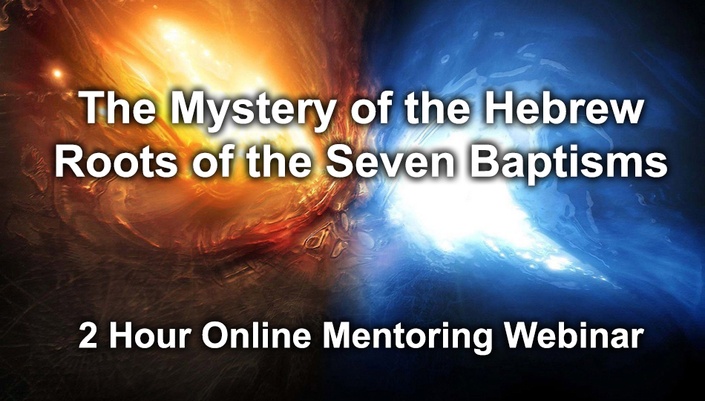 THE MYSTERY OF THE HEBREW ROOTS OF THE SEVEN BAPTISMS

3 HOUR On-Demand Mentoring Webinar with Reeni Mederos
with Unlimited On-Demand Viewing Access
---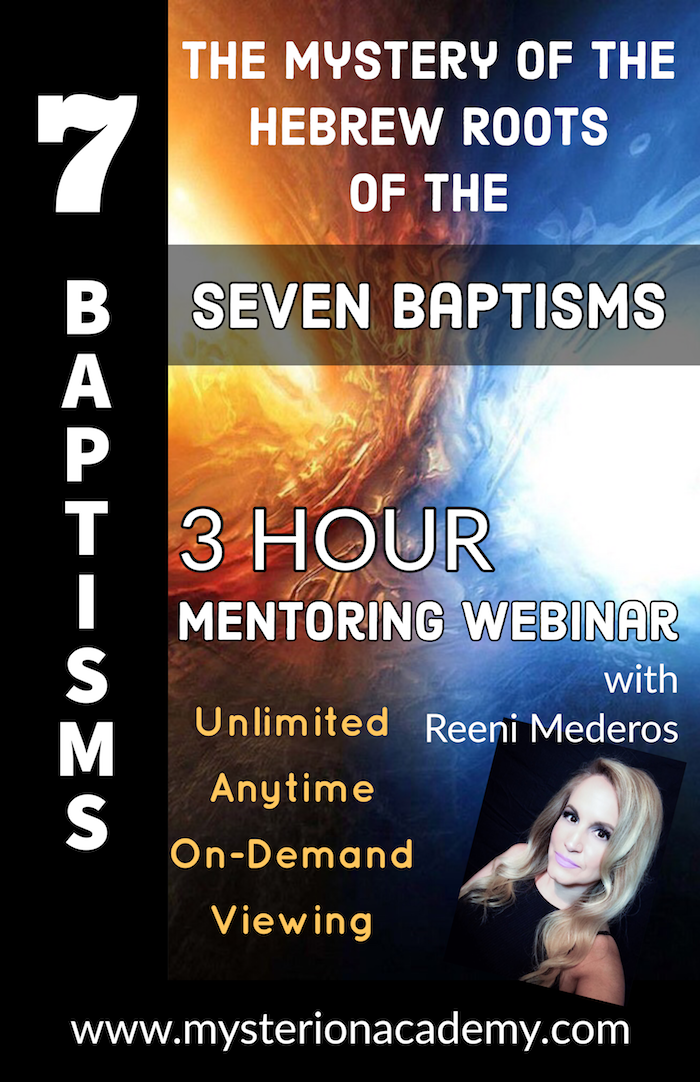 The Scriptures reveal that there are at least seven baptisms in the Bible that God not only wants us to know about but to be completely submerged and immersed into. You may have already heard of a few baptisms in Sunday school and in Church but there is so much more mystery to be uncovered that will blow your mind away of what the Father has prepared for those who love Him when we truly understand and dive into these seven baptisms that originate with the Father. Have you ever wondered where the origins of the concept and principle of "being baptized" came from?
The word "baptism" is a transliteration of the Greek word BAPTIZO which means to immerse. In Hebrew, it is referred to as a MIKVEH - an immersion. Basically, it is an immersion into another substance, for the purpose of being saturated by it, such as water in this instance. The new covenant also presents the immersion of a believer "in the Spirit of God" and also "with Fire". (Matthew 3:11) These are some of the baptisms we are familiar with but baptism goes all the way back to creation and is threaded throughout scripture unto the end times. As scripture reveals, there are at least seven baptisms we have the privilege of being immersed into for various reasons and purposes to accomplish God's original design for mankind. We must be intimately acquainted with and be transformed by these baptisms as redeemed sons and daughters of God most high and His kingdom.

One of the reasons I wanted to do this mentoring webinar was because of the incredible mystery that God has revealed to me personally as I have studied the Hebrew roots of biblical baptisms in the seven different ways God has unveiled in His word that goes much deeper than what we have learned in Sunday school. This revelation came from a very powerful encounter from the Lord that I feel I must pour out. It is like fire shut up in my bones!

God desires for us to be immersed in all seven of these baptisms that is life changing when you see from a Hebrew perspective what God originally intended for us when He designed these truths and these baptism mysteries are to be part of our DNA forever. These amazing seven baptisms affect creation, priesthood, salvation, repentance, ministry, healing, purification, cleansing, transformation and transfiguration of our body, soul, and spirit and more as we walk on this earth as spiritual beings living in human bodies. There are examples after example of how baptisms affected certain ones in the Bible that we can learn from and engage in for ourselves that will completely transform our very beings and teach us how to walk with God in a much more deeper and intimate level that will cause you to be a force to be reckoned with where no devil can touch you!

Being completely immersed into these seven baptisms will leave you completely undone as the Lord comes to saturate you with His fire and love that will completely transform you at the DNA level bringing deliverance and healing in the deepest places of your heart, soul, body, and mind. I will share some scientific happenings and concepts of quantum physics that will be mind-blowing with parables to help you understand and lock these mysteries into your very being. Engaging these seven baptisms will overflow and overwhelm you with the power of God's spirit in a way that you may have never experienced before. I can't wait to share these must have revelations from the depths of God's heart as He has revealed them to me and I want to give you these jewels of the kingdom to help you mature and grow in your sonship with Christ.

Come away with the Lord in this journey into the center of God's heart that is full of revelation, mystery, discovery, and healing and be baptized into these seven holy baptisms that will set your life and relationship with God on fire!

I can't wait to see you in the class!
Reeni Mederos / Founder of Mysterion Academy https://mysterionacademy.com
---
Optional: Be prepared to take communion together as a class to honor the Lord Jesus Christ with the first fruits of our time and have your communion elements ready such as a piece of cracker and water or juice.
Here are some of the class perks you're getting...
-Watch Anytime On-Demand Video at your leisure
-Comment and Q&A with Students and Instructor (optional)
-FREE Online Spiritual Gifts Test
-Unlimited On-Demand Access to this video as long as this class is available online.
Refund Policy: No refunds once you have logged into your course.
Registration Problems: Should you have any difficulties with your registration process, try using an alternate email address for your registration.
For further assistance, please email us at [email protected] or call or text (404) 220-7771.
Reeni Mederos, Founder of Mysterion Expressions
www.mysterionexpressions.com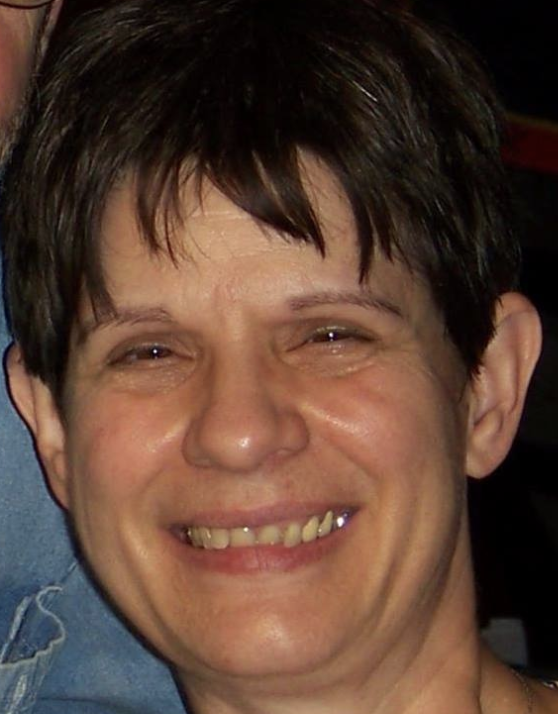 "Thank you so much Reeni, what a great and awesome God we serve! So good is He, giving us such great and deep revelations - encouraging us to go deeper and deeper with Him through all those Mikveh's that He has prepared for us. My heart felt excited and affirmed and filled with fresh fire and ready for more discoveries in Him. Thank you for pouring out and bringing through this great teaching gift, He gave you Reeni, all these mysteries into words and opening up a path bringing light this way to access His glory. Thank you and may Father bless you abundantly above and beyond your dreams and what you ask for, in Jesus mighty wonderful name." 💕
- Angelika - Ontario, Canada
Your Instructor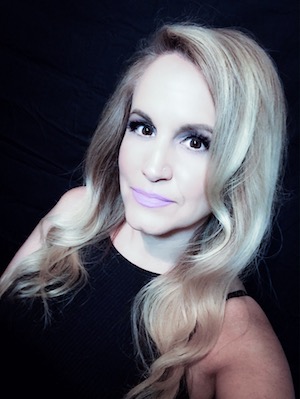 Reeni Mederos is the founder of Mystérion Expressions, Mystérion Academy and Mystērion.TV and is a revelatory motivational speaker, author of "The Weapon of Peace," and pioneering seer and a fiery prophetic psalmist who releases the fire of Seraphim with a passionate love for Christ in her spontaneous worship over cities, regions and nations, piercing individual lives with her contagious passion for Christ and adventuring the realms of the Kingdom following hard after God. Reeni has been activating the Body of Christ into God's supernatural realms for over 25 years with her online schools, live broadcasts and webinars, and on-location activation encounters, helping others to discover and fulfill their God-given destiny scrolls.
With a down to earth prophetic mentoring style that is easily received, Reeni's ability as a prophetic seer brings restoration to a persons God given identity from God and their original blueprint design from heaven. Hope is restored that brings healing to the heart, drawing out the gifts and callings within a person, and raises confidence levels as she administers pinpointed activation strategy with divine wisdom . As Reeni draws out the inner potential of a person's calling and hidden inner treasures with keen prophetic insight into the heart and anointed instruction, many discover the reality of their God-given blueprint, identity and destiny on accelerated levels in a very short period of time that results in a life that is transformed and equipped to do mighty exploits in God as matured sons and daughters of God.
Courses Included with Purchase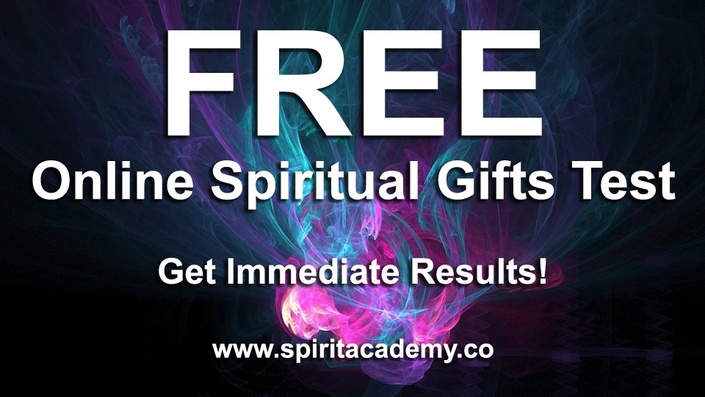 FREE Online Spiritual Gifts Test
Get Immediate Printable Results!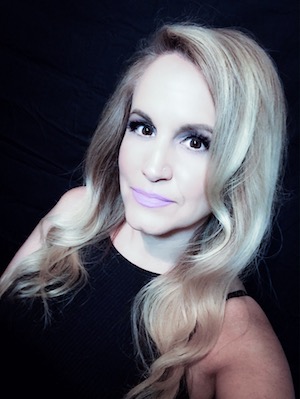 FREE
Original Price: $0