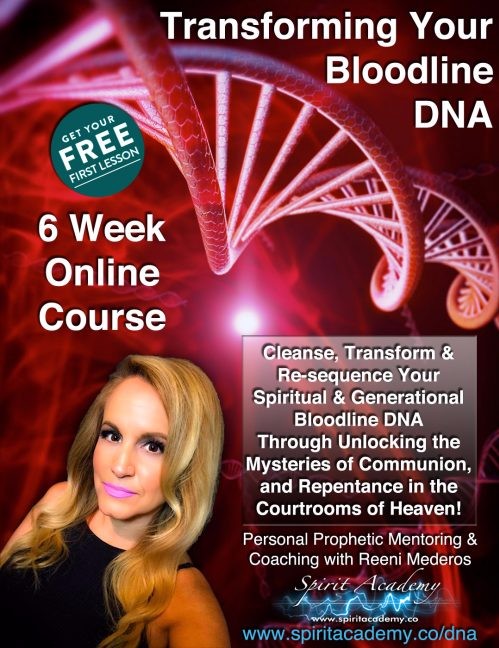 Cleanse, transform and re-sequence your spiritual and generational bloodline DNA through unlocking the mysteries of communion, and repentance in the courtrooms of heaven. This life changing course will take you step by step through the stages and progress of digging into your divine destiny scrolls that were written in heaven of you before the foundations of the world. You will; engage in the power of repentance, learn how to recognize and eliminate the accusations of the enemy, access the courts of heaven and get your NOT-GUILTY verdict from the courts of heaven, engage in holy communion with purpose and new revelation, go deeper into the power of the blood of Jesus, learn to divorce yourself form every ungodly covenant in your bloodline, be restored back to God's original intent and design for your life, learn how to access your destiny scrolls in heaven, operate in heavenly places as a spirit being with heaven's governmental authority, engage in visions just like Daniel did and navigate the realm of the kingdom with a brand new sharpness in the seer realm. The purpose of this course is that you walk away from it a transformed new creation full of authority and power the way you were designed to be!

Course Access: This course provides an interactive format to post your lesson comments with other students. Every session will start with taking holy communion as a group to honor the Lord Jesus Christ! There are no tests and no homework except that which you choose to engage in between you and God from recommended exercises. This course can be taken at your own pace from anywhere in the world on most devices and is accessible 24 hours a day with unlimited viewing with no expiration as as long as the course is available online to give you ample time to complete your course and review as much as needed at your leisure. It's that easy! Register Now!


Lesson Releases: Every seven days a new module will open up with several lessons within it. After all lessons are released, you will be able to access all the video lessons for the life of the course as long as the course remains available online.
Refund Policy: No refunds once you have logged into your course.
Registration Problems: Should you have any difficulties with your registration process, try using an alternate email address for your registration.
For further assistance, please email us at [email protected] or call or text (404) 220-7771.